Rev. Wes Pitts
Pastor
I'm Wes Pitts. Although I'm originally from Atlanta, GA, I am in love with all things North Carolina and am glad to call it home. I was raised in the Southern Baptist Church originally, but I was introduced to the Presbyterian Church around the second grade. I became a member of St. Andrews Presbyterian in Tucker, GA at 14, and a youth elder in that church at 15. While a member of the St. Andrews youth group I began feeling called to ministry, a calling that was confirmed by my youth leaders and pastor. I went to Queens University of Charlotte, where I majored in History, with the expectation of attending seminary soon after graduation. Instead I found that I was challenged in ways I didn't expect, and especially struggled with questions of theodicy and the role of the church in the world, and so I ran from my calling. Despite that running, I still engaged faith leaders and courses in order to do everything I could to learn and grow in the areas in which I struggled. After graduation I spent time in Korea as an English as a foreign language teacher and in Atlanta as a job coach for adults with developmental disabilities and mental illnesses, as well as a volunteer with AmeriCorps. During those years I re-engaged with my home church and was again elected to be an elder, and in serving in that capacity I began to again consider my call to ministry. Not long after my marriage I decided to apply for seminary, and I choose to attend McCormick Theological Seminary where I received a Masters of Divinity with honors and was awarded the George Tressler Scott Fellowship in Applied Christianity. Since graduation in 2014, I have served as the Director of Christian Education at First Presbyterian Statesville and, as of October 8, 2019, the pastor of First Presbyterian Reidsville.
I'm married to Liz Whittington and together we have a son, Walt, who was born in 2019. We also have two dogs, Norae and Sunae, who we adopted while living in Korea and have been amazing travelers as we've lived in three states and two countries. I love to cook (and eat!), run, read (especially Stephen King novels), travel, and experience new things. I'm a huge Atlanta Braves and Georgia Bulldogs fan.
You can find me in my office Tuesday – Friday from 9-12, or by appointment.
Dawne Young
Secretary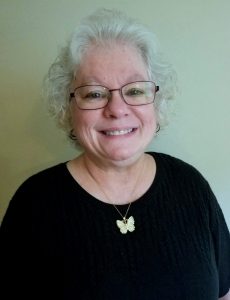 My name is Dawne Young and I have enjoyed serving as secretary of First Presbyterian Church of Reidsville since April 1, 2013. I was born in Lexington, NC and my family moved to Reidsville on my 13th birthday. I have been a member of FPC Reidsville for 47 years. I spent 14 years working for Rose's in Pennrose Mall starting out in a part-time position and working my way up to the Head Cashier position in the office. From there I moved on to First National Bank and worked in the Bookkeeping Department balancing the books for another 14 years. When our precious daughter was born in 1998, I was able to become a stay at home mom until beginning my time as secretary of FPC Reidsville.
On September 28, 1991 I married Bradley D. Young, Jr.  and together we have one daughter, Sarah Elizabeth and two spoiled cats, Pandora and Calico. Before starting our family, Brad and I enjoyed scuba diving, making yearly trips with friends to many wonderful places in the Caribbean.